The Case of Frederick the Noble

edited by: W. Pirsig & R.J. Ruben


Price: € 20.00 / US $ 24.00






Publication details: Book. 2020. vii and 68 pages. Publication date: 2020-08-12. Softbound. A5

ISBN: 978-90-6299-285-0

(ISBN 10: 90-6299-285-4; Kugler Publications)



Also available as ebook



Introduction
Introduction
During the study of the history of the disease of Frederick, Crown Prince and later German Emperor Frederick III (October 18, 1831–June 15, 1888) in the library of the Otto-von-Bismarck-Stiftung in Friedrichsruh, Germany in 2010, an unpublished series of twelve letters was found concerning the care of the Crown Prince. They were written by Felix Semon (December 18, 1849–March 1, 1929) and sent to Nikolaus Heinrich Ferdinand Herbert, Count of Bismarck (December 28, 1849–September 18, 1904), State Secretary of the Foreign Office and the son of Otto Eduard Leopold, Prince of Bismarck, Duke of Lauenburg (April 1, 1815–July 30, 1898), Minister President of Prussia. These letters were written in Sütterlin, the current German handwriting script and can be studied as microfilms (fiche). These letters expressed Semon's concern about the care that was provided by Sir Morell Mackenzie ( July 7, 1837–February 3, 1892) to Frederick.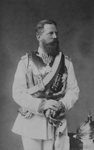 Semon was born in Danzig, to an upper middle-class family and was a schoolmate of Herbert von Bismarck. Semon received his medical degree in Berlin, emigrated to the United Kingdom and became a pupil of Mackenzie, then a prominent laryngologist in London. He published two books in1880 and in 1884 he published the German translation of Mackenzie's classic text. Semon was an early developer of neurolaryngology. He founded and edited the Internationales Centralblatt für Laryngologie, Rhinologie und verwandte Wissenschaften.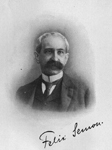 Sir Morell Mackenzie was from Leytonstone, Essex, England. He became one of the world's most influential laryngologists. In 1863, Mackenzie founded the first Hospital for Diseases of the Throat in King Street, Golden Square. He produced numerous books which were translated into many languages. These included The Use of the Laryngoscope in Diseases of the Throat (1865); Growths in the Larynx (1871) A manual of diseases of the throat and nose, including the pharynx, larynx, trachea, oesophagus, nasal cavities, and neck (German translation published in 1880;8 18843). His The Hygiene of the Vocal Organs: A Practical Handbook for Singers and Speakers (1886) was republished well into the 20th century.
At the time of writing these letters, Nikolaus Heinrich Ferdinand Herbert, Count of Bismarck, the elder son of Otto Eduard Leopold, Prince of Bismarck, Duke of Lauenburg, Minister President of Prussia, was the State Secretary of the Foreign Office. He was on friendly terms with Semon and was addressed by his first name Herbert. They first met at Semon's father's house while they were students. There was a later university encounter during student dueling, when they both dueled with different opponents and were wounded. In 1882, Herbert was in London as attaché of the German Embassy and renewed his friendship with Semon. This was the basis for the writing of the twelve letters during 1887 and 1888. Semon quotes from a letter from Herbert dated the 7th of September 1888, in which it appears he was transmitting Semon's critique of Mackenzie to the Prince of Wales: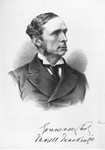 "I have had a conversation with the Prince of Wales about him. I told the Prince that the Emperor might have lived several years longer if he had never seen Mackenzie. I gather that H.R.H. did not like to hear this, the less as he had no reply to the arguments I based on the medical aspects of the case."
Each of the letters was transposed from Sütterlin script into a typescript. They were then translated into English by the authors. Each letter is presented in translation. A description of the events preceding each letter is given. The references are to publications, mainly newspaper articles. The footnotes are explanations of terms and places, and of the individuals mentioned in these letters.
Table of Contents
Acknowledgements
Introduction
The letters
Letter #1 – July 31, 1887
Letter #2 – August 6, 1887
Letter #3 – September 8, 1887
Letter #4 – November 14, 1887
Letter #5 – November 19, 1887
Letter #6 – December 20, 1887
Letter #7 – January 21, 1888
Letter #8 – February 21, 1888
Letter #9 – March 7, 1888
Letter #10 – July 9, 1888
Letter #11 – July 11, 1888
Letter #12 – July 12, 1888
References
Figures
Reviews
European Annals of Otorhinolaryngology Head & Neck Diseases -
By Prof. Albert Mudry
New information about the disease of German Emperor Frederick the Noble
The disease and death of German Emperor Karl Frederick III (1831-1888) has often been described in historical and medical treatises. These were all based on official political and medical reports published during 1887-1888 [1]. On 15 June 1888, the Emperor, died of laryngeal cancer at the New Palace in Potsdam. He was 57 years old and had reigned for only 99 days. While still Crown Prince, he had been treated for a laryngeal disease by Morel Mackenzie (1837-1892), Britain's leading laryngologist, who maintained for a long time, contrary to the opinion of German laryngologists, notably Felix Semon (1849-1921), that the disease was a benign wart and not a cancer [2]. In studying and presenting 12 original never published letters (collected in the Bismarck-Stifftung in Friedrichruh/Germany) written in German by Semon between July 31, 1887 to July 12, 1888, and sent to Nikolaus Heinrich Herbert (1849-1904), Count von Bismarck, State Secretory of the Foreign Office, Wolfgang Pirsig and Robert J. Ruben, bring, in a small book, some new documents dealing with "The case of Frederick the Noble" [3]. These 12 letters are fully translated into English and precisely replaced in their context, and in contrast with the official reports, some of them being written by Mackenzie. They give new insights of the rivalry and opposition between Semon and Mackenzie around the sad story of the Emperor. To give the readers the stimulus to read this book and to enter again in this story, some extracts are reprinted here. On April 18, 1887, the clinical diagnosis of cancer was made. A thyrotomy [4-5] was proposed but postponed by Mackenzie who regularly made biopsies sent to Rudolf Virchow (1821-1902) for pathological examination, never returning with the confirmation of a cancer but of a "pachydermia verrucosa laryngis." [6] On July 31, 1887, Semon wrote his first letter: "the British Medical Journal, obviously based upon information from Mackenzie, reported concerning the state of the larynx after the operation [ie, biopsy] and noted, in most optimistic manner, an improvement in the voice. Briefly, everything is rosy!" September 8, "If it is benign, then it is unclear why the Prince should be hoarse permanently […] If the disease is malignant, one would expect that the experienced laryngologists who have observed the case for a longer time, would recognize this and have now made a more definite diagnosis." November 6, Mackenzie, after making a laryngoscopy, answered to the Crown Prince's question 'is it a cancer': "I am sorry to say, sir, that it looks very much like it but it is impossible to be certain." November 14, Semon wrote: "How terribly sad that all my predictions and fears came true […] Unfortunately, the doctors now agree that it is a cancer, and this is now so definite that it has been publicly expressed […] The only possible chance of cure of our suffering Crown Prince is a total laryngectomy." On December 17, Mackenzie published a paragraph concerning his role in agreeing with all the consultants that this was a cancer. He is defending himself because the German press had felt that he was at fault for not making the diagnosis. Mackenzie included several sentences concerning Virchow's negative pathology report which supported his earlier conclusions about the case. January 21, 1888, Semon wrote: "Our poor suffering Crown Prince appears to be gradually worsening in spite of favorable newspaper announcements." Mackenzie informed on January 31, 1888 that a tracheotomy might have to be performed, but remained still intellectually unwilling to make the diagnosis of cancer. He wrote: "At this moment medical science does not permit me to affirm that any other disease is present than chronic interstitial inflammation of the larynx combined with perichondritis." After the tracheotomy performed on February 9, 1888, Semon wrote February 21, "I have instinctive feeling that the situation is infinitely sad and it becomes even sadder for me. For the knowledge of all the opportunities that have been missed and now are lost […] I did not at all like the occurrence of bleeding on Title / Authors / Affiliations Click here to view linked References the 5th and 6th day after the tracheotomy […] I have, from the beginning, considered it likely that the bleeding originates from the cancer itself!". Two weeks later, Semon added, "With open eyes, consciously, one has let the disease progress more and more and thereby determine this disease, until all reasonable hope of success is ruled out completely, and now one is thinking to offer this operation? […] The conceit of the person who was to blame for everything, now had the nerve to state on the one hand that this terrible total laryngectomy is 'less dangerous' now than in May of last year […] Are we all in Bedlam? What I have just written to you in my feeling of emotions of deeply patriotic and scientific wrath, my dear count, of all German physicians, from by far the greatest part of the educated correct thinking Germans, of the righteously thinking, scientific English physicians, surgeons, and probably from a small part of the educated British lay public […] As I told you yesterday, it seems to me that 'noble silence' has its limits!" Finally, after the death of Emperor Frederick III, Semon wrote: "I am only surprised that no Englishman has yet had the courage to say publicly what we hear often enough in private: that the entire matter is sickening! […] I am curious as to what will be the end of the story." On his side, Mackenzie published a book! [5] But is this story really ended?
References
1.sMac Kenzie M, Schweig H. Case of Emperor Fredrerick III. Full official reports. New York: Werner, 1888.
2. Laccourreye O, Werner A, Laccourreye H, Bonfils P. Tobacco and otorhinolaryngology: epic and disaster. Eur Ann Otorhinolaryngol Head Neck Dis 2014;131:183-188.
3. Pirsig W, Ruben RJ. The Case of Frederick the Noble. Amsterdam: Kugler, 2020.
4. Rudert H, Werner JA. The laryngeal disease of the German Emperor Friedrich III: treatment failure or fateful course. Eur Arch Otorhinolaryngol 2016;273:1489-1506.
5. Laccourreye O, Garcia D, Maldent JB, Werner A. Une illustration du progrès, des difficultés et des conflits en médecine : l'histoire des laryngectomies. Bull Acad Natl Med 2011;195:741- 753.
6. Cardesa A, Zidar N, Alos L, Nadal A, Gale N, Klöppel G. The Kaiser's cancer revisited: was Virchow totally wrong? Virchows Arch 2011;458:649-657.
7. Mackenzie M. The fatal illness of Frederick the Noble. London: Sampson Low & Co. 1888.